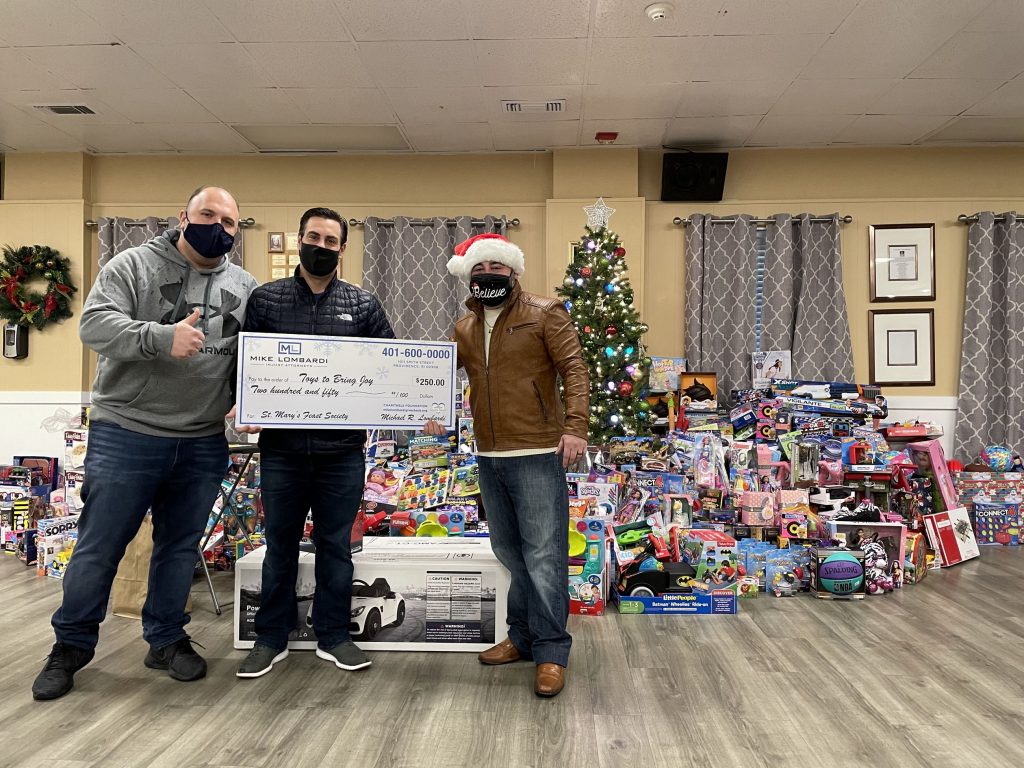 Mike Lombardi Gives Back sponsored, participated in, and helped organize the "Toys to Bring Joy" 2020 toy drive for underprivileged children at St. Mary's Feast Society in Cranston, Rhode Island. From 4:00 p.m. to 8:00 p.m. on December 20, 2020, hundreds of toys were distributed to kids and their families at a drive-through event.
Toys to Bring Joy volunteers were decked out in Santa Claus hats and a few even wore full elf costumes. Holiday music was played and hot chocolate was given away for free while toys were being handed out, adding to the festive holiday celebration. People even had an opportunity to take a photograph with Santa Claus himself!
Under normal circumstances, Toys to Bring Joy is normally a time when the Cranston community can get together and spread holiday cheer. However, COVID-19 necessitated a drive-through 2020 toy drive in order to keep everyone safe. Volunteers responsibly wore masks to protect families and themselves from the latest coronavirus strain.
The pandemic was no match for Cranston's holiday spirit. People from all over the community, including cherished friends from the Cranston and Providence Police Department and Providence Fire Department, helped make the 2020 toy drive fun for everyone involved. Most importantly, we came together to help make the holidays a bit more special for children by helping them receive some wonderful toys.
Mike Lombardi Gives Back would like to thank St. Mary's Feast Society, the Providence and Cranston Police Department, the Providence Fire Department, all the event sponsors, all the volunteers, and everyone that donated toys for making the 2020 toy drive such a magical experience. Check out the photos below to see some of the scenes from the event.
Mike Lombardi Injury Attorneys hopes that you and your family have an amazing holiday season and wish you all the best for 2021